ABOUT
The Kilvert Gallery first opened its doors in 1986, at Ashbrook House in Clyro, near Hay on Wye, the former residence of the Victorian diarist Francis Kilvert. The creation of artists Elizabeth Organ and Eugene Fisk, the gallery was a work of art in itself, as well as a stunning home and unexpected exhibition space.
With Lizzie's critical eye carefully selecting a discerning mixture of paintings, sculpture and applied art, and Eugene, as artisit-in-residence always at the ready with an exquisitely laid tea-tray, it quickly became a hub for artists, collectors and all those with creative sensibilities seeking respite from the harsh realities of a 'hum-drum' world.
When, after Lizzie's death in 2009, Ashbrook House was sold, Eugene moved across the river to Hay-on-Wye, and whilst installed in a significantly smaller home, he managed to retain a studio for himself and a large collection of the art and artefacts that he and Lizzie had accrued over the years. These he came to refer to as 'The Kilvert Collection', which he saw as an archive not only of his own life and work, but that of the creative community that he and Lizzie gathered around them.
His intention for the collection was that it should be archived and exhibited, and that The Kilvert Gallery would continue anew, not only as a record of the past, but as an inspiration to all those who are pursuing 'the life creative' in whatever form that may take.
Work is currently being undertaken to archive and exhibit various strands of this collection, which began summer 2018 with two exhibitions of the work of gallery artist William Mills and a preview retrospective of the work of Eugene Fisk.
More recently we were delighted to be able to continue with our programme of exhibiting thanks to Val Harris at The Table Gallery in Hay-on-Wye, who undeterred by Covid managed a version of 'business as usual' and curated a wonderful selection of William Mills' work from the 1970's. You can view the show archive online here and enjoy a guided tour of the work with Val Harris and Kate Milsom available to view HERE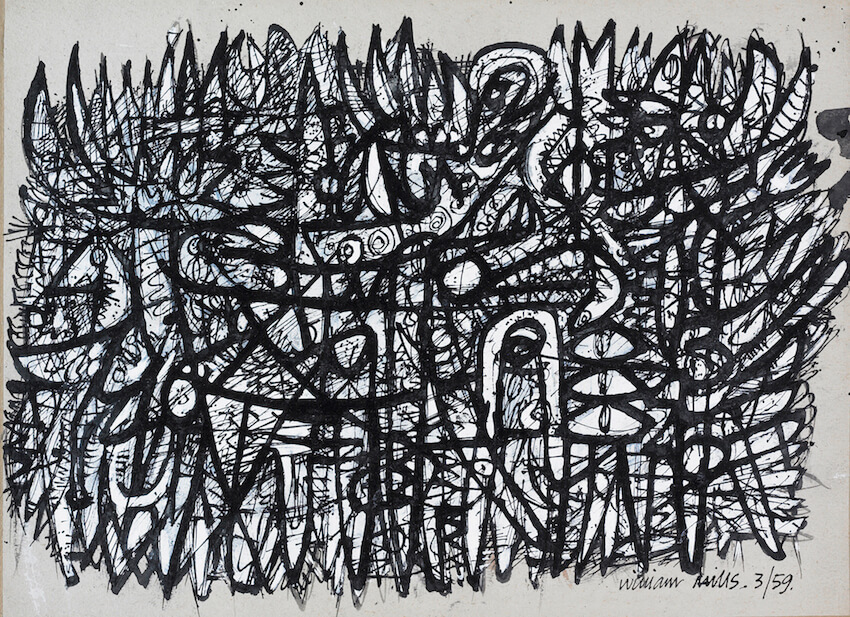 Abstract by William Mills | 1959
For invites to private views and exhibition news subscribe to our mailing list