Elizabeth Organ 1934-2009
Born in Birmingham to Harry and Nelly Waters, Lizzie was a much loved only child whose artistic endeavors were nurtured and encouraged by her father, who although not a professional artist, was a deeply creative individual. In her teens the family moved to a smallholding in Worcestershire, where she developed a deep affinity for the country-side and a sincere love of animals.
She completed her degree at Leicester college of art, after which she was offered a lectureship in art at Loughborough, where she met Bryan Organ, a fellow tutor. They married, and as Bryan's career developed as a celebrity portrait painter with clients including Michael Tippett, Princess Margaret, Mary Quant and Elton John, Lizzie continued to teach and, equally talented, became a well respected painter in her own right. She divided her time between her studio, the promotion of their work, and also ran her own business, advising architects on art commissions. Among their closest friends were Graham and Katherine Sutherland, who both greatly admired Lizzie's painting, and with whom Lizzie stayed for a while after her divorce from Bryan.
When the divorce became final in 1981 Lizzie took a studio in Germany, where she painted extraordinary still lives with incredible detail. On her return to Milton Keynes and the home she had once shared with Bryan she continued her practice until her pursuit of perfection led to a depression of such magnitude that she decided to stop painting altogether.
Around this time, she came into contact with the artist Eugene Fisk who's work as an observer of the building of Britain's first 'new city', Milton Keynes, led him to contacting local artists. Eugene admired her work greatly, not only her meticulously detailed paintings and prints, but the innate sense of design she had employed to create her exquisitely decorated and colourful home. For Lizzie, Eugene's gentle calm presence, gallant good looks and total commitment to the life artistic brought her back into the light after a time of darkness. Unsurprisingly they fell in love and remained together until Lizzie's death.
In 1984, having been introduced to the Welsh borders by a friend, Lizzie and Eugene moved to Clyro near Hay-on-Wye, where they restored Ashbrook House, the former home of the diarist-curate Francis Kilvert. Opening its doors to the public in 1986 as The Kilvert Gallery, it was not only a stunning home and unexpected exhibition space, but it quickly became a hub for artists, collectors and all those with creative sensibilities seeking respite from the harsh realities of a 'hum-drum' world.
With her innate sense of design and the most discerning eye, Lizzie showed highly-regarded artists such as David Inshaw, Alfred Stockham, and Roger Cecil alongside carefully selected new talent who had caught her attention, including the now well respected Clive Hicks-Jenkins and Charles Shearer. Her discernment in art matters has been a fundamental influence on countless artists.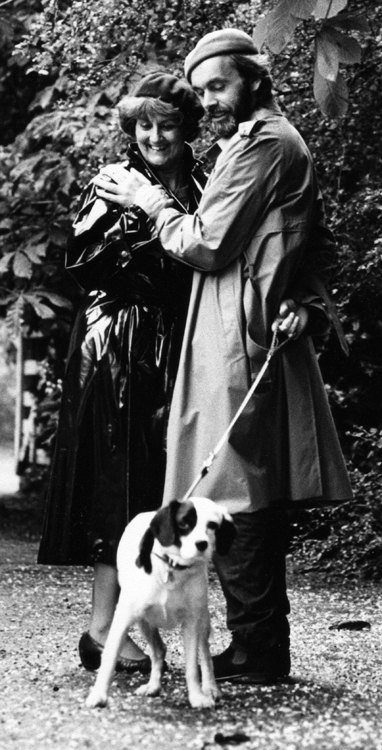 Lizzie with Eugene Fisk | Clyro c.1980
OBITUARY by Peter Wakelin – The Guardian