Kate studied Fine Art at Oxford Brookes University, spending her final year at The School of the Art Institute of Chicago on an extended travel award. Graduating in 1992 she moved back to her native London, where for a time she slipped into the world of graphic design and illustration, working for Raymond Loewy International, and subsequently becoming Course Tutor at Lambeth College, and later a lecturer at Worcester University.
Moving to the Welsh Borders in the mid-1990's to concentrate on her own practice, Kate was introduced to the Kilvert Gallery by her then husband Caius Hawkins, and a life-long friendship was born, not only as a gallery artist but also as a member of the Kilvert in Venice team, taking groups of artists and art lovers on magical and creative tours of the city.
Encouraged to pursue her painting career further by Lizzie and Eugene, Kate subsequently took a studio in Venice for 3 months in 2006 where she developed her current practice of mixed media 'femmage' utilising the abundance of cast-off museum guides and maps that formed the daily floor-carpet of the city. Transposing these into a travel diary of sorts became an archival endeavour as much as an aesthetic engagement.
Over the last ten years this practice has developed. As we increasingly move toward a "paperless" culture beholden to digital forms another transposition has taken place within the work, in that the 'collage' elements are now sourced from 'throw-away' images on the internet, released from their pixels and returned to a version of their original form. The anomalous combination of the traditional and digital stages of the production echo the slightly unsettling compositions and subject matter – from the mixture of painted and collaged elements 'intricate scenes of social malfunction' evolve.
Kate is endlessly fascinated with how and why society functions, what 'rules' we accept to live by, where they are subverted and who among us is brave enough to pay them no heed. Working in series, her paintings often investigate socio-political themes using historical comparisons to highlight contemporary issues. Using the form of narrative portraiture the images are intended to ask of the viewer "Where do I fit in?" and subsequently "Where do you?" and ultimately "Are we all sitting comfortably?"
Kate is currently represented by The Martin Tinney Gallery, Cardiff and Gala Fine Art, Bristol. Other exhibitions include the RWA Open, Battersea Affordable Art Fair, University of South Wales, The Menier Gallery, SE1 and MOMA Machynlleth. She has work held in private and public collections including Oriel Y Bont, University of South Wales, Mazuranic-Brlic-Ruzic Library and Collection, Croatia and Art Surgery, London.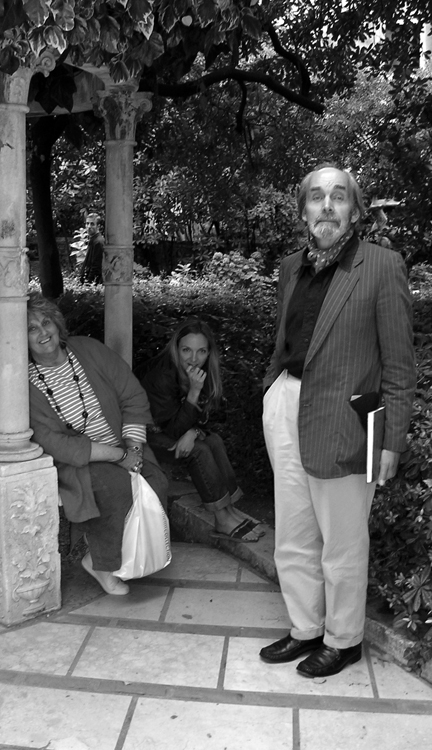 Center – with Lizzie Organ & Eugene Fisk | Venice c.2002