Eugene's working life began at the age of 15, in Repertory Theatre, first as a student then as a member of the Company. He immersed himself in all aspects of theatrical production, enthralled with the art of dramatic presentation. His life-long fascination with portraiture began 3 years later when, conscripted to National Service, he commenced sketching the personalities of barrack-room life – becoming an unofficial artist-in-residence to the Royal Army Ordnance Corps.
After the requisite 2 years he converted to Catholicism and joined the De La Salle Religious Teaching Order where he learned much from the painter and art master Frederick Sands (1916-1992). He furthered his education in art – studying at Farnham School of Art and Sussex University. He started teaching Art, working also in drama productions, and throughout this time he recorded in his art the people he met, and aspects of the religious life.
On leaving the order in the early 1980's, his interest in the development of local communities and their members resulted in a series of drawing projects and illustrated books, and also led to his meeting Elizabeth Organ with whom he fell in love. Together they moved to Clyro and founded The Kilvert Gallery in 1986, with 'Lizzie' as the formidable curator and Eugene as Artist-in-residence.
Here he ran courses in drawing and painting, both from the gallery and as excursions throughout Europe, and painted local scenes and portraits to commission from his studio in the garret of Ashbrook House. These portraits included Miranda Richardson, Sir John Harvey-Jones, and Sir Roy Strong, and led to a residency at The Welsh National Opera. Back in the world of the theatre, he produced some of his finest and most expressive work to that date. These were exhibited as a solo show at St.David's Hall Cardiff. Eugene continued also to show his work at the Kilvert gallery, and in many exhibitions at nationally – including Hever Castle and the RWA, and in various european destinations such as the French village of Azincourt, where a series of his drawings were exhibited and published as a book.
After the death of Elizabeth Organ and the closure of the gallery at Ashbrook House, Eugene moved across the river and spent the last decade of his life as 'artist in residence' to Hay-on-Wye, a much loved figure in the town who documented its daily comings and goings in his own unique way and added so much colour to all our lives.
As an artist, art advocate and inveterate diarist, he wished to leave behind him an archive not only of his own life and work, but that of the creative community that he and Lizzie gathered around them. He set up this website as the beginnings of that project, not only as a record of the past, but as an inspiration to all those who are pursuing 'the life creative' in whatever form that may take.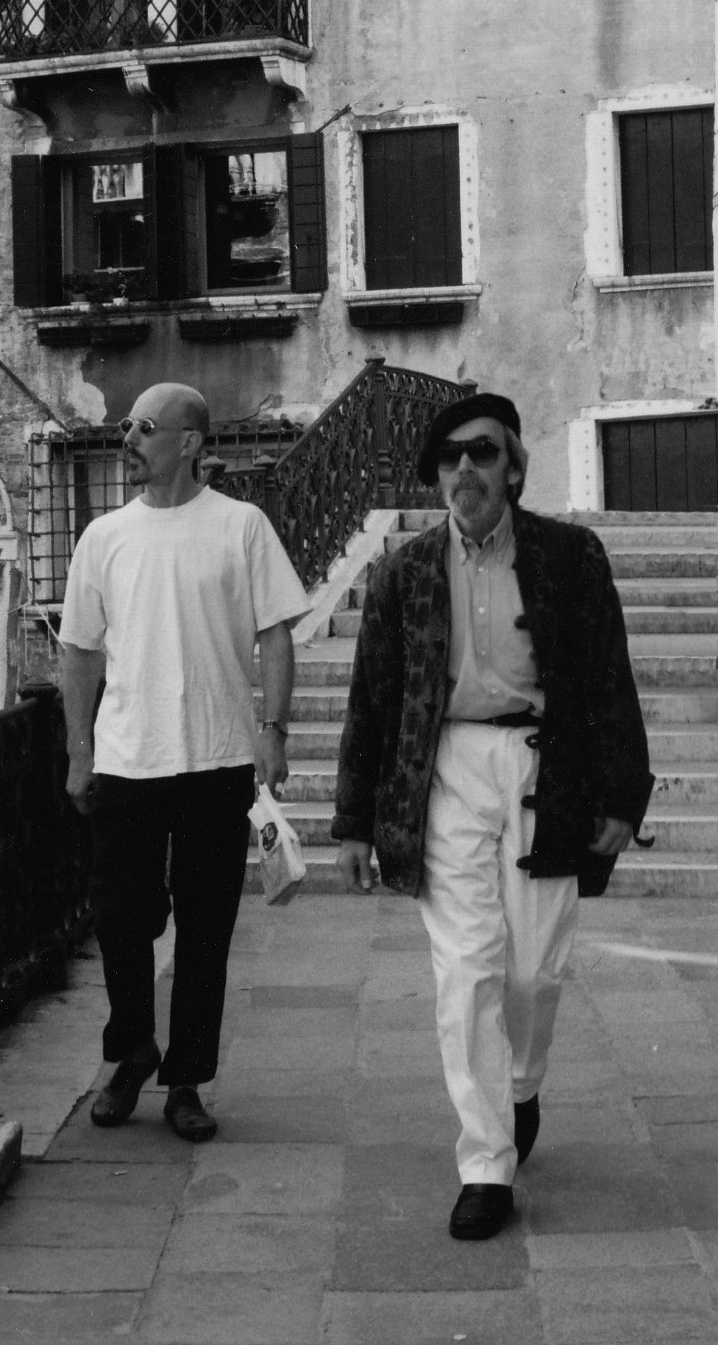 Eugene Fisk (right) with Charles Shearer | Venice 2002
OBITUARY by Peter Wakelin – Wales Art Review
Eugene's Last Project
As a founder member of Hay Brecon & Talgarth's Sanctury for Refugees, Eugene spent much of his time over his last two years in regular attendance at the group's monthly Respite Days drawing portraits of the guests enjoying their days out. His aim was to connect with each sitter and bestow on them the importance and dignity, as unique individuals, that had been taken from them as asylum seekers and refugees.
This resulted in his last book, 'Only Connect', a rich and moving collection of his portraits and writings, put together by Eugene & Catriona Mirylees, and beautifully designed by Neil & Cate Jones.
Copies of the book are on sale with all proceeds going to HBTSR at
• Addyman's bookshops, Hay-on-Wye
• Booths Bookshop, Hay-on-Wye
• via greeninkbooksellers.co.uk
For information about the work of the Hay, Brecon and Talgarth Sanctuary for Refugees
CLICK HERE